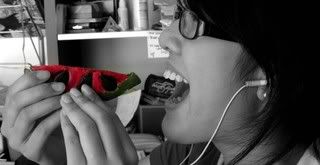 love is no distance

A'belle! I'm a musician,amateur photographer and writer ( more like epic fail,roflmao) i love GOD who is awesome,showing His love in everything we do and see =] I love the people around me dearly, and the ones back in Malaysia. i love big fat bear hugs,so when you come see me give me one :D check out my flickr when your bored : FLICKR!
ab



More than words.

.





You know you love me, too.

Layout is by Cia: (Blog | Acc)
Icons/banners are from: Stopthetime / Reviviscent respectively.
Links inspiration are from: Alissa. xoxo

redirecting

Sunday, July 11, 2010

if you're wondering if im alive or dead...

head to belleyman.tumblr.com

to find out =]


PLANETSHAKERS

Friday, April 16, 2010

...WAS AMAZING.
God's presence was awesome! Touched so many Christians in the auditorium - it was amazing.
Met new people too! Most from mish's youth :) They're nice.
Had a craplot of oreos too - made my teeth unbelieveably black. And purp kept givig me the cream bit - ewwww.

BUT BUTBUT
I TOOK A PICTURE WITH THE DRUMMER OF PLANETSHAKERS
how lengchai is he?!



he got wife already la okay :p

I GOT A HUG FROM REGGIE DABBS WOOOOO! best hug-er ever.
and Bishop T.D Jakes was awesome :D:D

We got a little high,and did these :-








pretty self explaintry
more like ME getting high LMAO
and we got the same tshirts tooo :D:D






=D
will never forget this week-EVER
My faith in God has neever been stronger =]]
HALLEJUYAHH,HALLEJUYAH YOU HAVE RISEN FROM THE GRAVE!

AMEN!

oh btw- i have an alt blog now
www.hopeofallhearts.blogspot.com
hehe named after my fav song :D
you can go there :))

YOUR LOVE IS BIGGER THAN THE GALAXY!

Ab


time to thank the lord,guys.

Thursday, April 1, 2010

its easter today, which means..
around 2000+ years ago, a man died for us on the cross, and by His amazing love and grace, we are saved.
He wilingly died for us - when we don't even deserve it.
Thank the Lord for dying and sacrificing - for our sins.
:)

'Father forgive them' , was the whisper of Calvary .


THANK YOU LORD!!
*
going to Great Ocean Rd tmr. wait for the pics :)
daddy is here!! <3

ab


your love makes me sing

Wednesday, March 31, 2010

blogging through tv. Biggest Loser is on :)
ive started watchin GLEE all over again, and i fell for it , all over again.
Finn & Puck makes me go awwh and my heart skipa beat.
And they sing, hot daym.

Goin off to my daughter's place tmr =]
dad is coming home !!

your smile makes me smile.


Some say its not over till its over.

Sunday, March 28, 2010




:D can't believe I just found this song like last week( yeah,im THAT sad)
and hot dayum,taeyang is some hot boy.

damn sad la, some uglier dude go get the really pretty girl.
and when he wore his tux,hot dayum. look at that ;)

stupid guy,randomly pop up from the sofa and car. > <
had fun playing atthe Lim's today =]]]


loved the part where they were playing the itouch together(l)

we might drift apart,and you don't seem to care.

ab


just step,chances are- you will not fall.

Friday, March 26, 2010

=]
TERM IS OVERR!!!! ;):)
Had to sit for my physics,maths test today.physics was unbelieveably do-able and maths was okay la,got stuck at a question.
i hate my interm report. my teachers havent even changed my marks yet -____-

PLANETSHAKERS IN 2 WEEKS OH MY ASSS!!!

:D:D:D back to my indo essay,fml.

i miss talkin' to you,where the hell have you been?


what is your definition of true love?

Sunday, March 21, 2010

SO,apparently there's this silly and beautiful lil thing called LOVE.
:D
and yes,its very very very beautiful and it means ALOT.
and there's another small thing,called PUPPY LOVE.
:) it keeps you happy,maybe for a short period of time,but your happiness will run out ( depends how much you like the guy)

Why am i typing this out? :)
because D has found her special somebody <3

my own quote :
"If there's someone who will love you no matter what, beautiful or haggard, stupid or clever, tooth jutting out or not, whether you're going through the motions or not,normal or abnormal ,got nose shit also - if he still pours out his love for you, that is true love (y). And D, I reckon you've found it."

that is my definition of true love =]




that is love that will never end :)

LORD,SEND ME TO THE WORLD,TO THE LOST,THE POOR AND AND HUNGRY
IM CLAY WITHIN YOUR HANDS
SO SEND ME


have a good week!
HOLIDAYS ARE COMING!

ab

Labels: Loves








PEOPLE!

Myf blog
Hannah: My Lingsy : )
Judith:small , with a BIGHEART
Gene: Blur bassist
Irene
Jia Qi
Jojo
Charis
Simone
Shekoko
Sim Yuen
Lynn
MiChing
SookTheng
ChloeFoo
Japhia: CP
JunTing
Ezrin
Melissa
Leena: hantubiskut
Loh Yeng
KaiYee
Julianne
MayJet
Pei Yen
Viann
Zri:Chronicgamer
Sum
WengHong
Chloe
Serene


Private/dead blogs are strike-through.