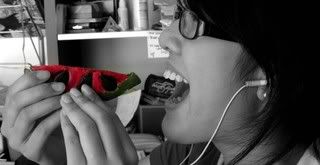 love is no distance

A'belle! I'm a musician,amateur photographer and writer ( more like epic fail,roflmao) i love GOD who is awesome,showing His love in everything we do and see =] I love the people around me dearly, and the ones back in Malaysia. i love big fat bear hugs,so when you come see me give me one :D check out my flickr when your bored : FLICKR!
ab



More than words.

.





You know you love me, too.

Layout is by Cia: (Blog | Acc)
Icons/banners are from: Stopthetime / Reviviscent respectively.
Links inspiration are from: Alissa. xoxo

for an awesome friend

Wednesday, September 9, 2009

Can you answer 50 questions about just 1 person??
Pick a friend and don't change half way through.
1) What's their name?Formally diana now.. hannah.
2) Does he or she have a boyfriend/girlfriend?I also don't know leh :P3) Do you get along with this person all the time?Yes !
4) How old is the person?15
5) Has he/s
he ever cooked for you?No. I'll probably die of food poisioning haha
6) Is this person the same age as you?Yeap , 2 days apart :D
7) Have you ever kissed this person?Not yet , soon haha
8.) Have you ever laughed for longer than 2 minutes?Mhh,
10) Are you really close to him/her?Yeap
11) Nicknames?Die, hanhan,babi
12) Do they have a nickname for you?Tau Jing and babi. T___T
13) Have you and this person been outside the country?Lol , the furthest is melaka
14) Do you think they will repost this?Idk , she just sleeps and eats and studies
15) Could you live with this person?YES ! COME TO AUSTRALIA DAMMIT
16) Why did you pick this person?Cause i love her :)
17) How long have you known this person?3 years only
18) What's your favourite thing to do with this person?Slap her stomach while singing 'jingle bell rock'
19) Can you name one favorite memory with this person?Haha aunty christine's house , while i told her 'bedtimestories' for her retarded sugus.and and and andyldp , she was my personal dustbin for extra food :D
20) Have you ever joint bought something?Nope >_<
21) If you ever moved away would you miss this person?I already did dammit. yes ):
22) Have you ever written a song with this person?Yes , but i failed halfway haha
23) Have you ever done something really stupid or illegal with this person?Yes !me: eh , 12 o'clock,12o'clockher : where where?!
24) How many piercings does this person have?2
25) Would you date this person's siblings?I would date jasper. he's a real cutie ! :D:D
26) Have you ever made something with this person?Made something? memories :P
27) Have you ever cried with this person?Yes
28)Have you and this person ever got into a fight?Obviously got la
29) Have you gone skinny dipping with this person?LOL
30) Write something only they will understand.elehhh , miss me or joc?
31) What's something special you share?We are really close and and we make lomaikai deals :D
32) What's the nicest thing they've ever given you?book , and the sight of her crying when i left ):
33) Have you ever worn this person's clothes?Got
34) What's this person's favorite food?Chinese food. she likes uh pig trotter with something,charkueyteow,all the complicated chinese food also like wan.
35) If it was "freaky friday" would you switch bodies with this person?YES,
36) Have you ever heard this person sing?She's awesome at singing :)
37) Do you and this person frequently get drunk?Drunk?
38) Have you ever stolen anything from this person?Yes o_o her torchlightSHIT SORRYYY HAN
39) Have you ever gone dancing with this person?Dont think so
40) If this person were a colour, what would they be?black. because it's her fav colour lo
l41) Wh
ens the next time you will see this person?19 DECEMBER DAMMIT
42) Does this person have brothers and/or sisters?2 bro's, and one sister. all her sibs are adorable :)
43) If you could spend a day anywhere in the world with this person, where would you go?Melb :D and KL
44) What are you looking forward to be doing with this person?To hug her and slap her stomach constant
45) What makes this person feel happy?studying .__. and shopping
46) Do you and this person talk a lot?Yes
47) Can you describe this person in one word?FANFREAKINGTASTIC
48) If you were to make a film of this person's life, what would you call it?Di or Hannah poo4
9) Do you want to go out with this person?YES
50) Do you want to be friends with them forever?Hell yes :






PEOPLE!

Myf blog
Hannah: My Lingsy : )
Judith:small , with a BIGHEART
Gene: Blur bassist
Irene
Jia Qi
Jojo
Charis
Simone
Shekoko
Sim Yuen
Lynn
MiChing
SookTheng
ChloeFoo
Japhia: CP
JunTing
Ezrin
Melissa
Leena: hantubiskut
Loh Yeng
KaiYee
Julianne
MayJet
Pei Yen
Viann
Zri:Chronicgamer
Sum
WengHong
Chloe
Serene


Private/dead blogs are strike-through.